Kids always have an eye on new things whether it be the change in the color of the sky or the fruits and vegetables to eat. Every school brings out the basic Root Vegetable Craft to educate the kids about the different variants of vegetables. Through the activity 'Root Vegetable Craft', your child is going to explore the different types of root vegetables with maximum fun.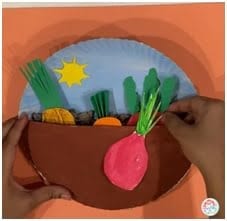 What You Need:
Paper
2 Paper Plates
A Box of Colors
A pair of scissors
Glue
Step 1
Take a paper plate and cut them into two halves.
Step 2
Color one part of the paper plate with brown to show the effect of mud.
Step 3
Take another paper plate and color it with blue color.
Step 4
Join the brown colored paper plate in the second half of the full paper plate.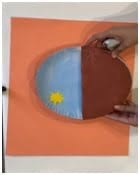 Step 5
Draw different root vegetables in a paper, color and cut them appropriately.
Step 6
Place the root vegetables in the paper plate accordingly and let your child learn with fun.
Learning has never been this fun? Has it? With the activity of Root Vegetable Craft, your child is not only having fun but eventually learning the healthy veggies we eat and the way they are grown.