With the weekend in hand, Parents with their kids can have full fun and be experimental. This Sunday, we bring to you an educational science experiment of balance.
What You Need:
A Spoon
A Fork
A Toothpick
A Matchbox
A Glass
Step 1
Bend the center two-tine on the fork up and push the fork and the spoon together
Step 2
Place the toothpick between the center two-tine of the fork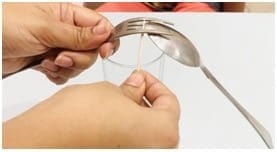 Step 3
Balance the toothpick on the rim of the glass
Step 4
Light a match on both ends of the toothpick
Disclaimer: Adult supervision is required to light the match stick.
The logic behind this experiment is gravity. The center of gravity of an object refers to the central location that gravity acts on the gravity. Here, the center of gravity is straight down from the spot where the toothpick sits on the rim of the glass which is also known as the pivot point. Experiments and growth of a child goes hand-in-hand. A trick of balancing is what you can try, show and educate your child on a Sunday afternoon. Fascinating! Isn't it?