Today, we thought of giving our shaving foam a twist with a sensory play by simply freezing it. A quite easy and fun activity that will definitely make your little one chirpy. The outcome is so delightful that the kids would be totally surprised by this simple activity.
What You Need:
Shaving Foam
Colors
Refrigerator
Tray
Decorations
Step 1
Take the tray and spray a generous amount of shaving foam into it.
Step 2
Add your favourite color to it.
SInce, Valentine's day is just round the corner, we picked up the color red.
Step 3
Sprinkle in it with some decorative elements.
Step 4
Place it in the freezer to freeze overnight. Then in the morning, handover it to the kids to have fun.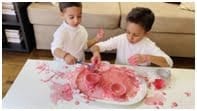 Viola! Your frozen shaving foam is ready. The texture will be a little hard after the freezing and also, a little bit gooey and feels really great. The kids will love to create this and it is so easy. It is surely a hit with the kids.