Each child has an imagination of his/her surroundings. With this activity, let your child bring out their creativity with paint. An activity that can be done both indoors and outdoors.
What You Need:
Four wooden sticks or a chair's legs
Plastic Wrap or Cling Film Roll
A box of water/acrylic colours
Step 1
Place four sticks in the ground or if indoors then use the legs of a chair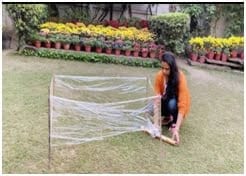 Step 2
Wrap and cover the sticks or chairs with cling film or plastic wrap roll
Step 3
Give some paint colours to your child and let them paint it.
This activity gives an easy, quick and tidy way to get on board with your kids and have fun in the most creative manner.